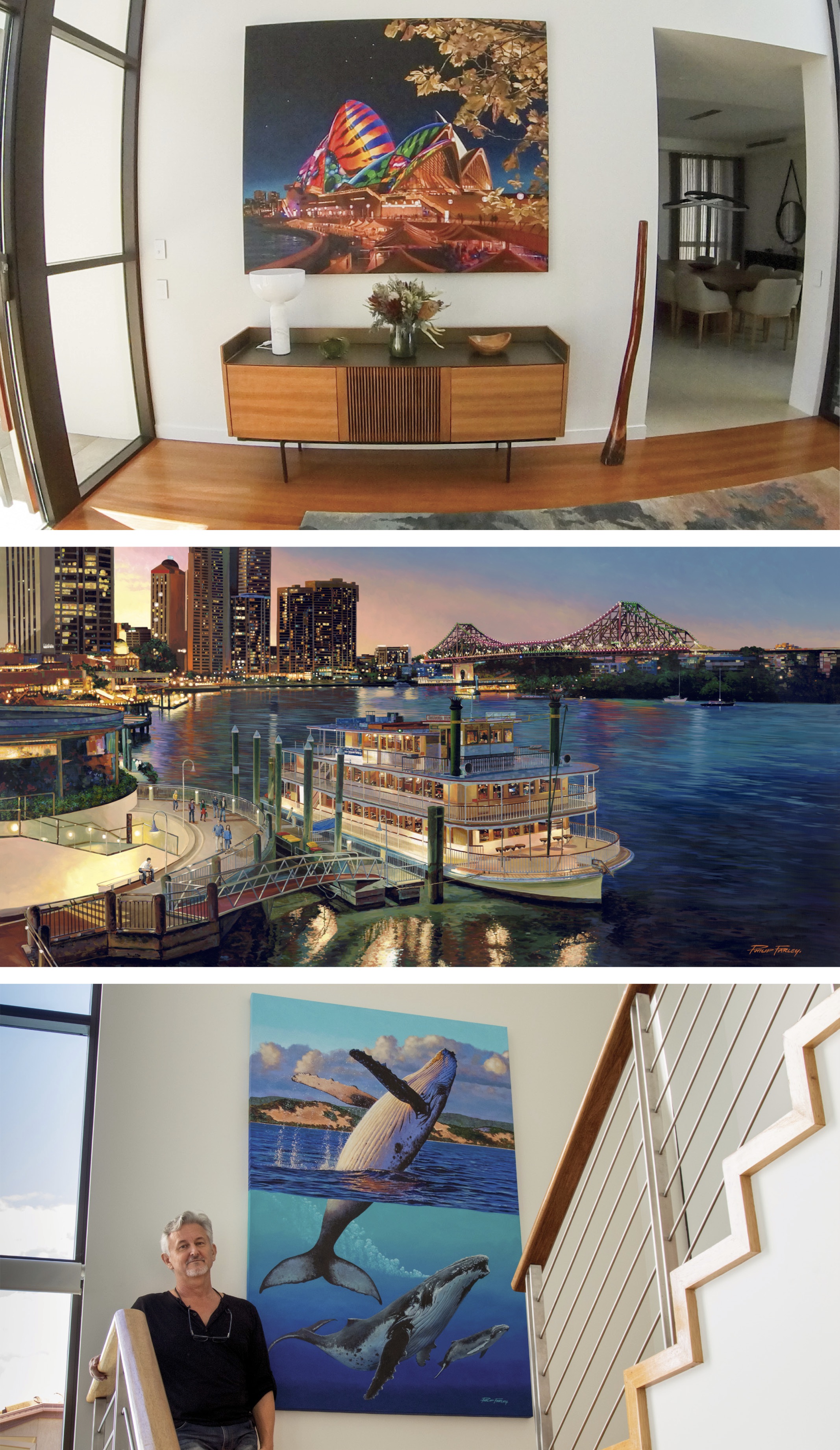 "Philip Farley is one of Australia's finest artists. His work truly captures the Australian way of life that he brings to life with spectacular colour and detail. After having purchased one of his original signature pelican seascapes Tides Out, I then had the opportunity to work with him to commission three additional paintings bringing to life images I had taken in Sydney, Brisbane and on Moreton Bay. Philip will go down in history as one of Australia's greatest artists. His work continues to evolve and mature with time."
Neil Edward
"Working with Phillip on my portrait was a very pleasant experience. He was very accommodating of my hectic schedule, listened to my comments, was very professional and easy to work with.
I was delighted with the result.He is an excellent artist and I would recommend him to anyone looking for a
quality work."

Melva Hobson PSM,
Mayor Redland City
2008-2012.
"For the past several years I have watched with great interest as Philip Farley has matured into a formidable artist. I particularly admire his meticulous research, intuitive feeling for design and technical mastery of the paint medium, all of which make his paintings seem effortless.
Australian eagles are the most difficult of all birds to paint and although many artists have tried, only a few have succeeded.
I cannot fault Philip's Wedge-tail, which dominates a beautifully realised landscape. This is altogether a magnificent work, which I would not mind seeing among my collection of Australian bird paintings."
Peter Slater
Author, Photographer and painter of birds.
"My company commissioned Phil Farley to do three large paintings based on the theme "Brisbane City Scapes." The three works are an amazing reflection of the Brisbane city skyline, Story Bridge and Brisbane River views. Visitors to our office continue to express very positive feedback on the paintings. We have even had comments from visitors saying they can't believe the paintings aren't actually photographs – that's how detailed the artwork is. Phil is truly a master artist, and certainly top of his class in the Australian art scene."
Dr Mel Bridges
Chairman
These 3 paintings are now for re-sale,
Go to Originals page to view these.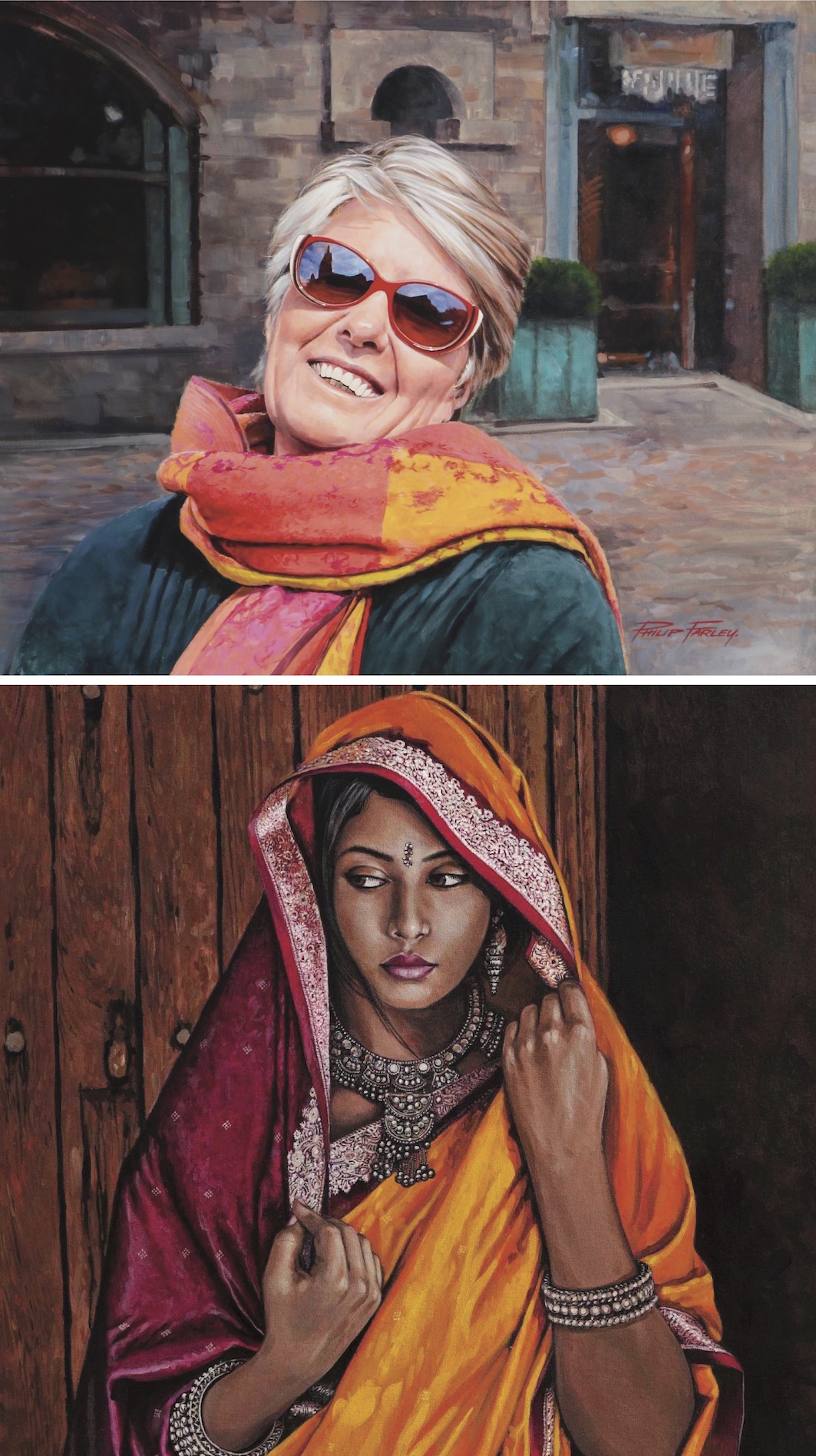 "I found a picture of my mother which my father had taken whilst they were on holidays in Italy. I had heard that Philip Farley was an excellent artist and particularly excelled at portraits. I commissioned Philip to paint a portrait from this photo. The painting now hangs in pride of place in our family home. To say that I am delighted with the outcome would be an understatement. It is simply amazing and receives comments from everyone who visits our home. We were so impressed we had Phil complete a second painting of an Indian lady, also taken from a picture. In our opinion both pieces of work are at the highest standard and certainly in the category of the Archibald Prize competition."
Courtney Curtis
"My family and I have known Philip Farley for over 10 years and have bought numerous paintings from him. The quality of his artwork is such that we never tire of gazing at them, and gain ongoing pleasure in having them on display. Phil has a unique talent in capturing the real essence of his subject matter, whether it is wildlife, landscapes, interesting portraits, and the list goes on. Our family is deeply appreciative in having met Phil and being fortunate enough to have collected a wide array of his paintings."
Lucille Bridges
Art Collector
"It's been several years now since Philip painted this amazing portrait of our children. It's a daily reminder to us of just how much they have grown and changed.
Philip has captured in detail not only their appearance but their very character and personalities.
Every time we look at the painting it reminds us that the young adults they have now become, were once these spirited, precocious, delightful, mischievous and very precious children."
Craig & Libby – Marcoola
"I approached Philip Farley to paint a portrait of my son and the two loves of his life, his Siberian huskies. This painting would be a 30th birthday surprise for my son Nathan.
When I saw the completed portrait I was amazed and in awe of it. It was beyond my wildest expectation. The attention to every detail of the subject was amazing. I felt like patting the dogs then and there, it was like having them in the room. The painting of my son was so life-like, a person who is happy, especially when surrounded by friends. I knew from the moment I set eyes on the portrait that Nathan would treasure it forever."
Rahila - Brisbane
"Words cannot express what my portrait means to me. To be 'immortalised' in such a stunning work of art, is an extremely powerful and emotionally humbling experience. Thank you Philip, for allowing me to see myself for the first time as truly beautiful. I am in awe of your amazing gifted talent."
Kathy - Brisbane